DIY Easter Idea: How To Apply Adhesive Vinyl On A Glass Jar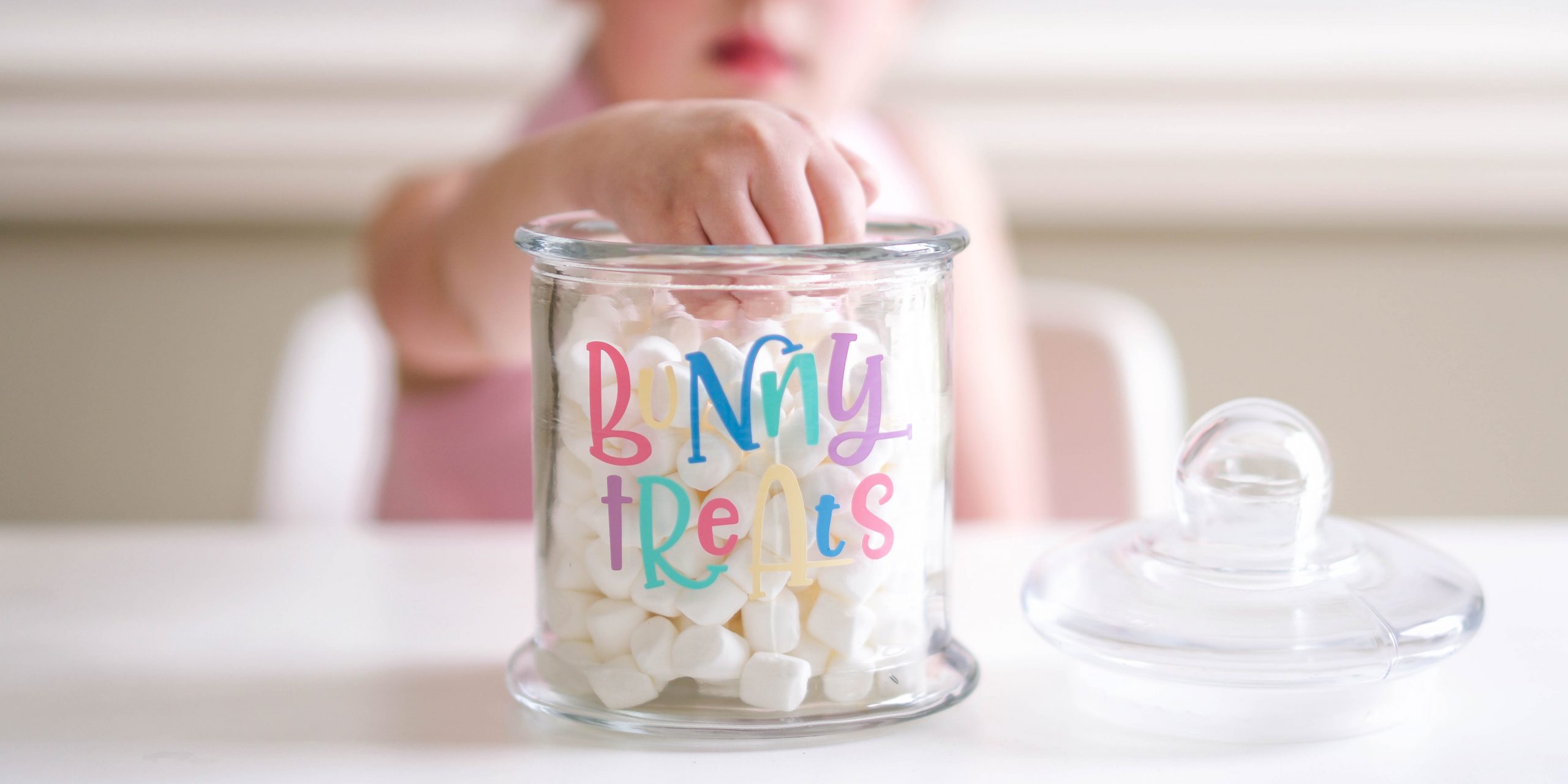 Hey crafty friends, Kayla here from the Kayla Makes blog and today I'm showing you how to apply adhesive vinyl on glass to create a cute Easter themed treat jar. So, dust off your Cricut machine, grab a cup of coffee and follow along with today's step-by-step tutorial.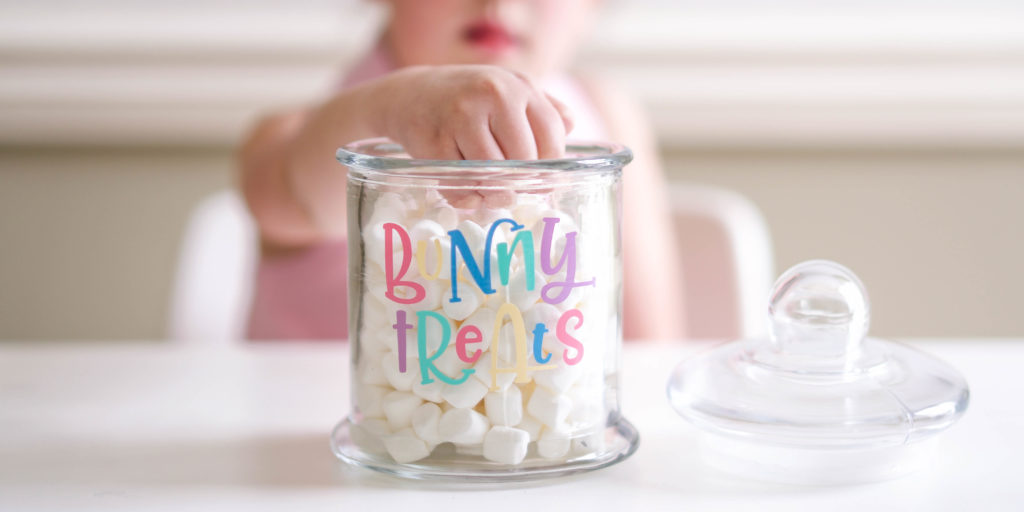 Difficulty Level: Moderate
Estimated Time To Complete: 30 Minutes
Supplies Needed:
Step One: Design Set Up
Start by uploading or creating your own design in Design Space. I used the text tool and the font Pinsetter to type out the bunny treats phrase.
Ungroup the design so each letter is a seperate cut file and then change the colors to match the adhesive vinyl colors you plan to use.
Use the shapes tool to add a heart in the design. The heart is going to act as our registration mark to help align and layer the different colors of vinyl.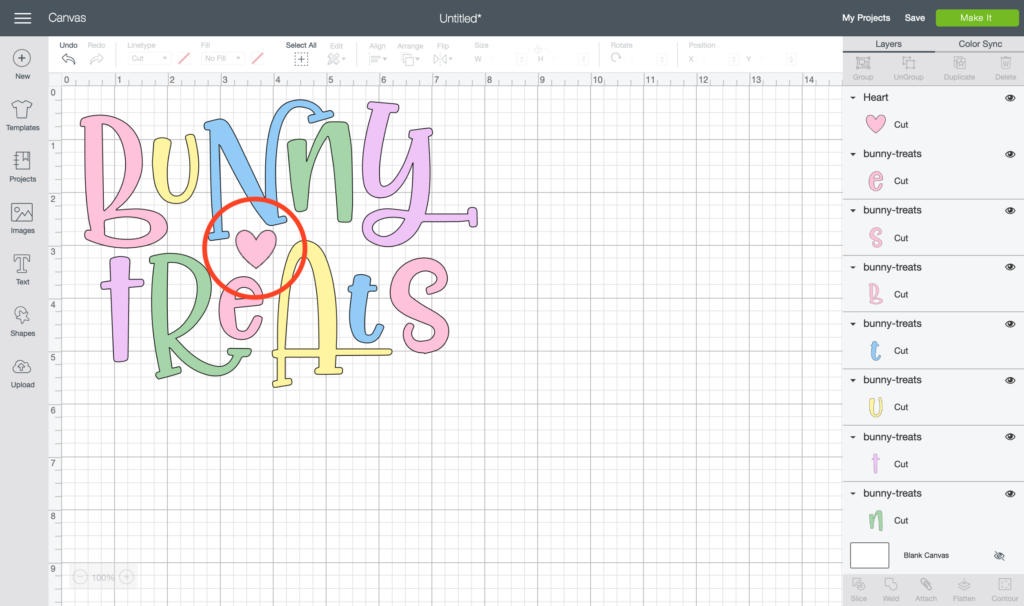 Decide which color you want to cut first and then hide all other letters that aren't that color. You can hide a design by clicking the eye next to it.
Select the heart and all of the letters left on the canvas and click the attach button in the bottom right.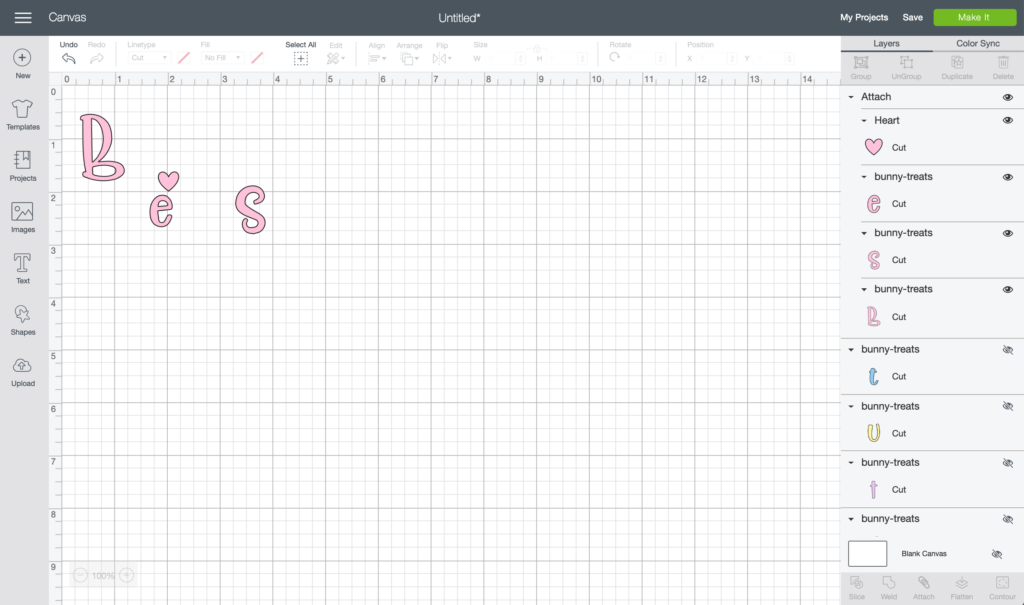 *The attach feature keeps your designs in place on the canvas.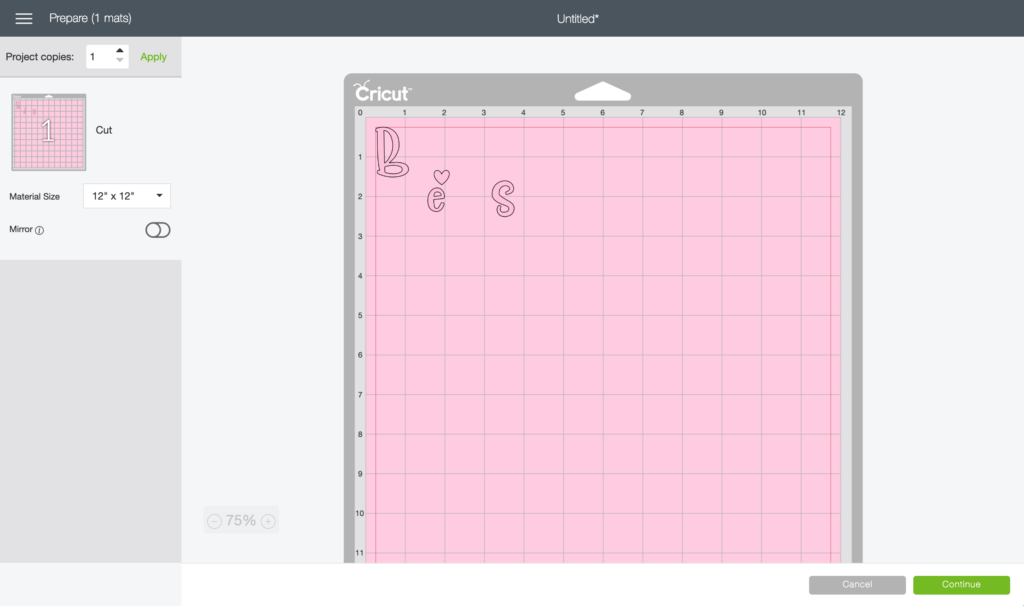 Step Two: Load and Cut
Place the pink adhesive vinyl on the mat and load the cutting mat into the machine and press the flashing start button.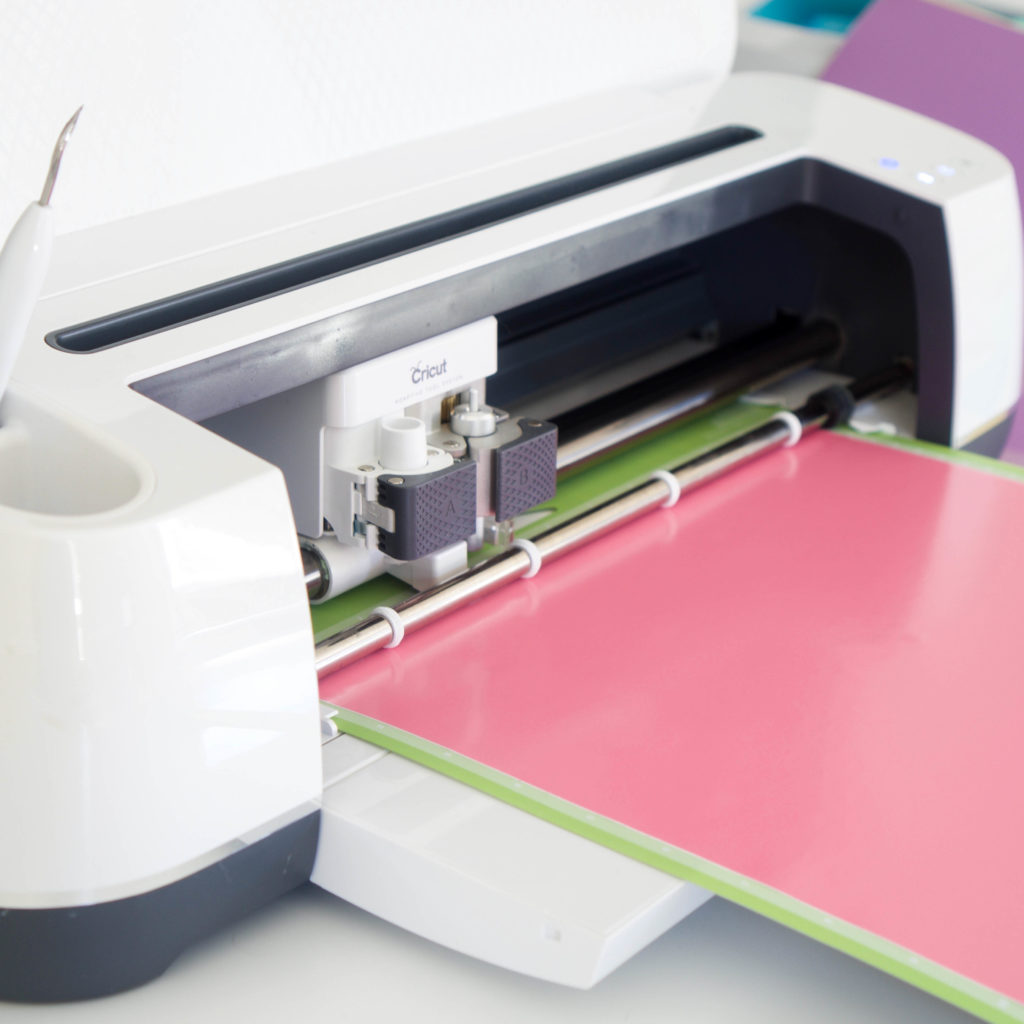 Each time you cut a new color you'll need to hide all of the other letters and then attach the heart to the letters that are being cut. Repeat the process until all of the letters are cut out.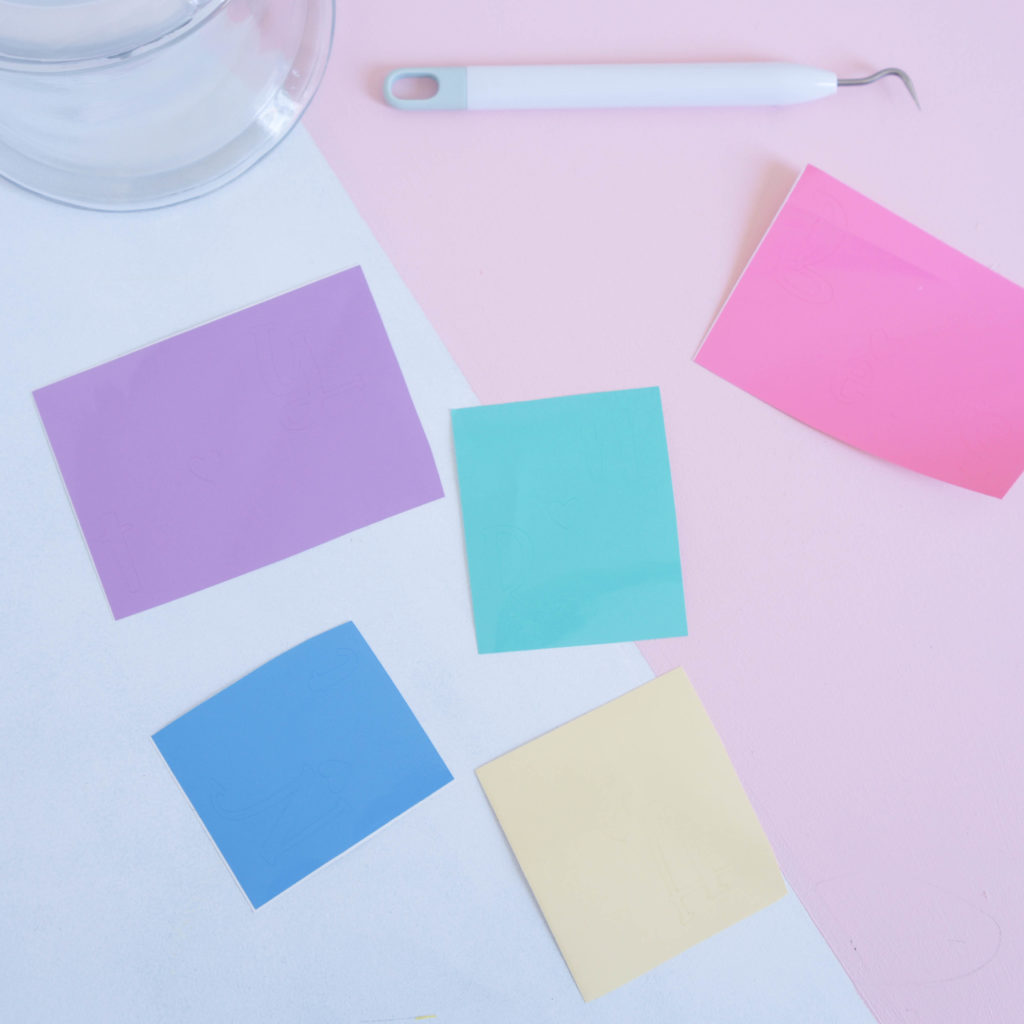 Step Three: Weed
Peel away and discard the extra vinyl from around the letters.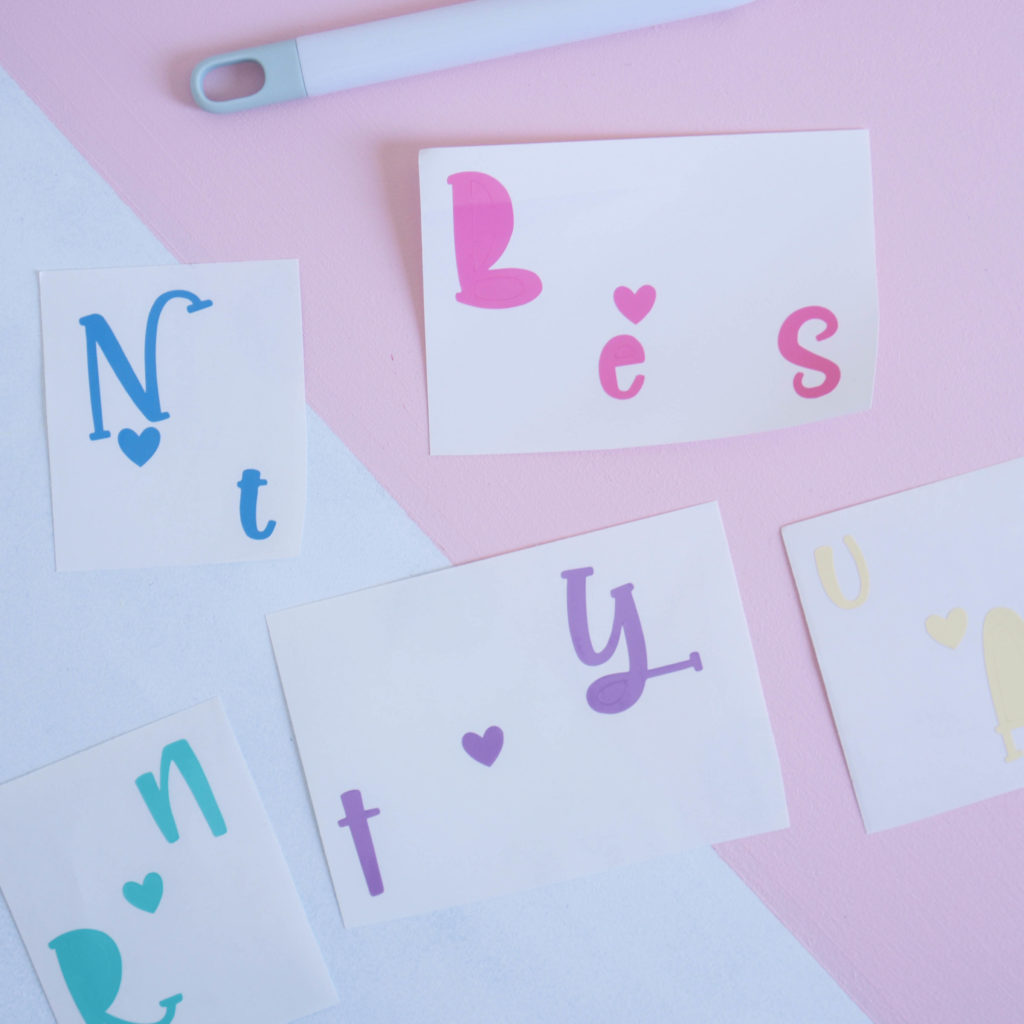 Use a hook tool to remove the smaller pieces that you can't get with your fingers.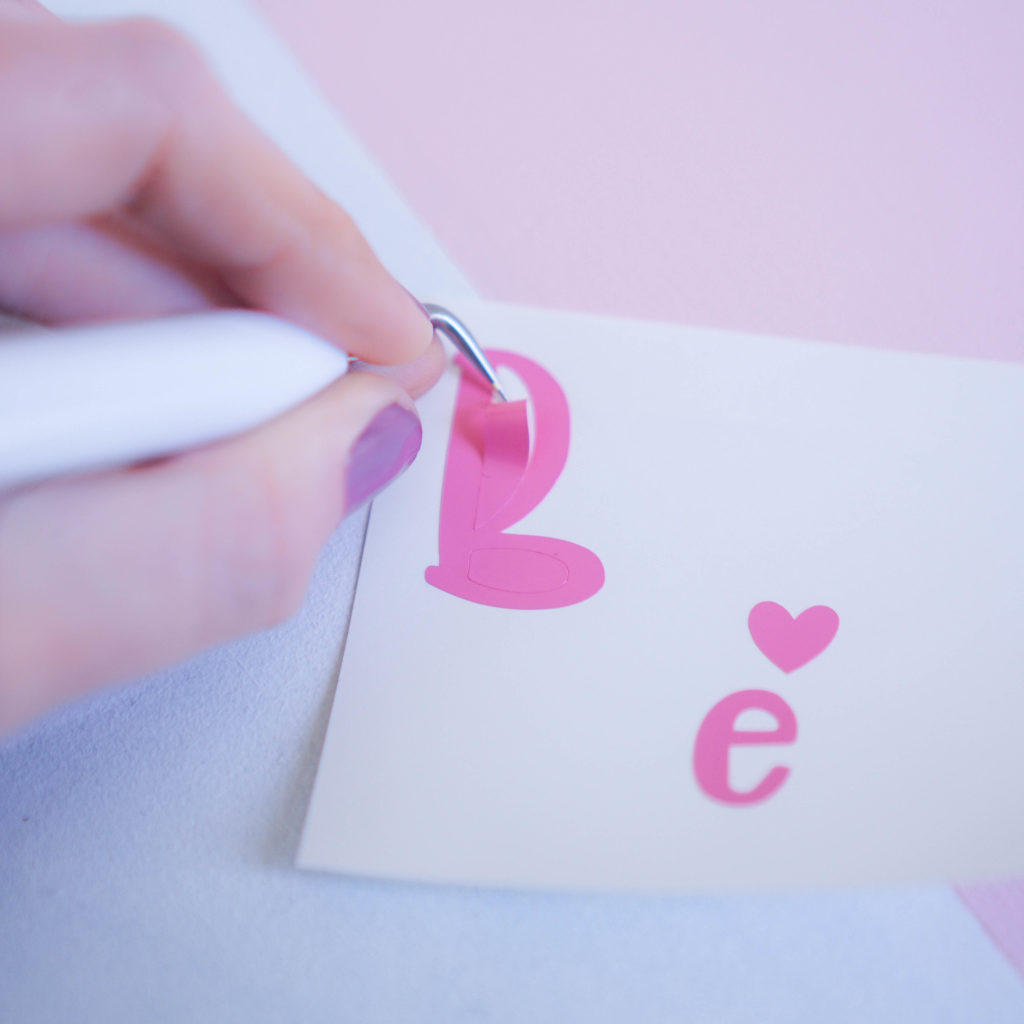 Step Four: Layer
Apply transfer tape to the first layer and line up the heart with the heart on the second layer.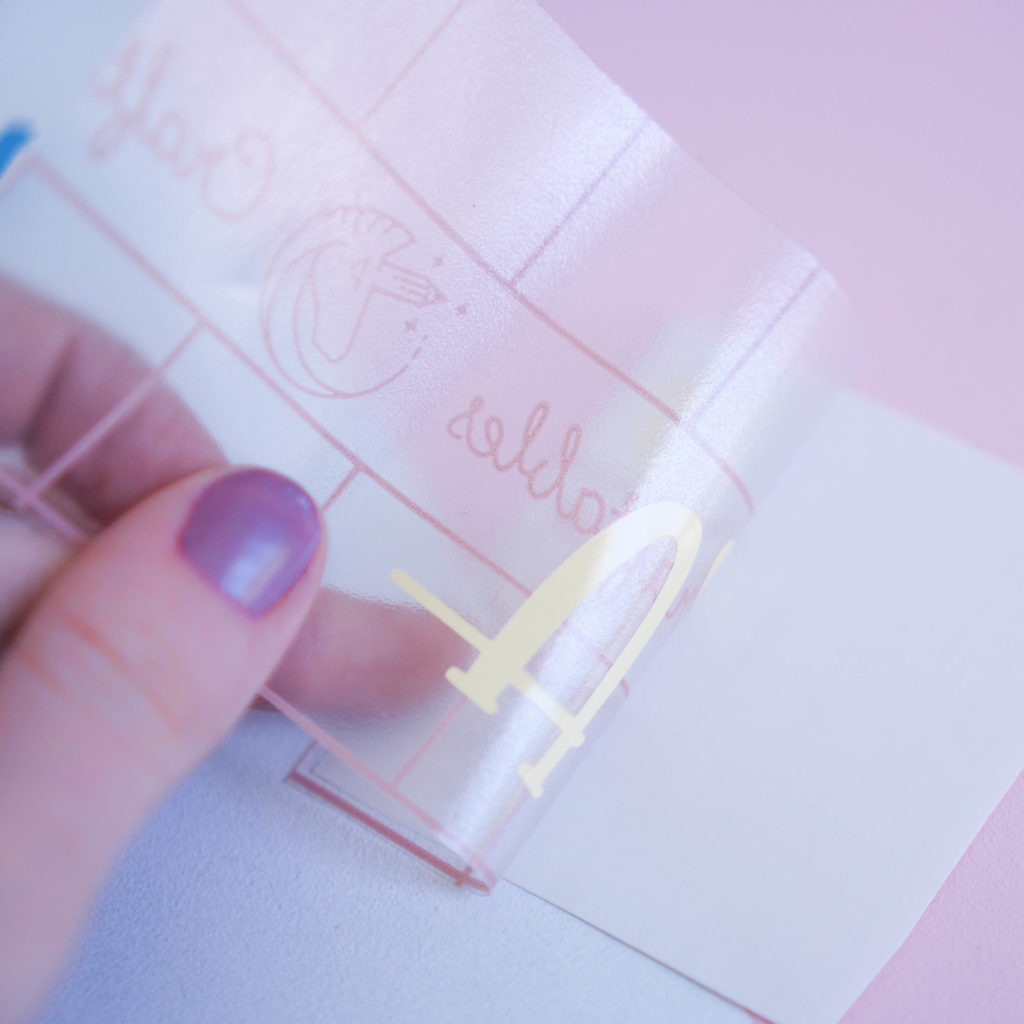 The order you go in really doesn't matter as long as you are lining up the hearts each time.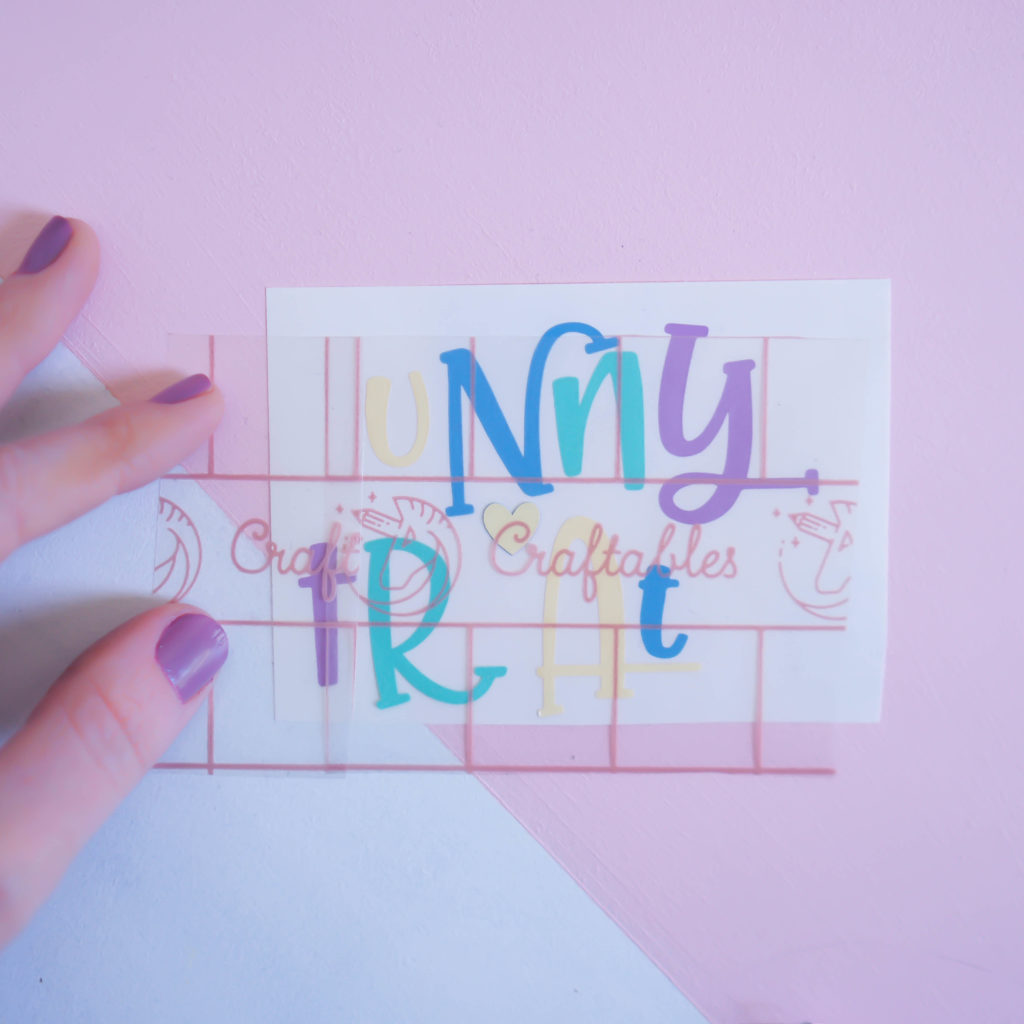 Keep layering until all of the letters are on the same piece of transfer tape then use a scraper tool to burnish well over the entire decal.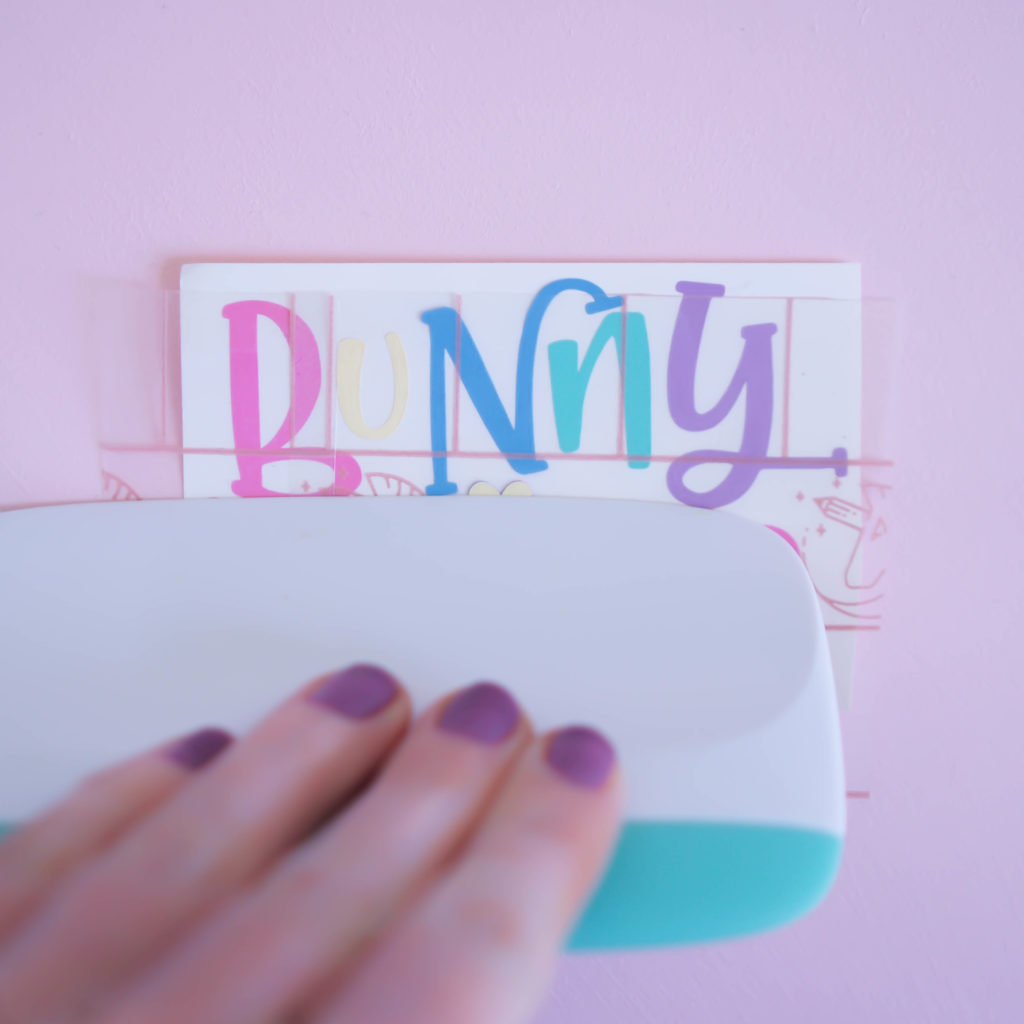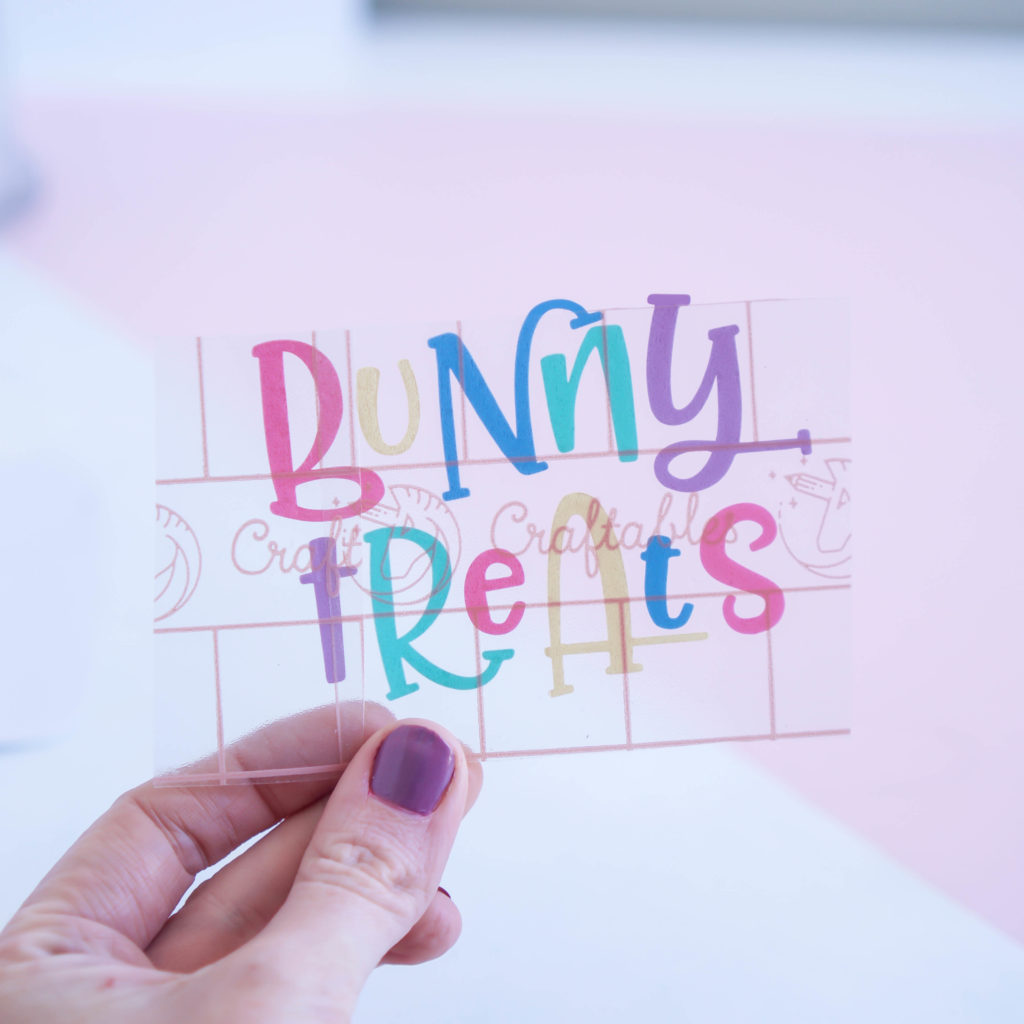 Step Five: Transfer Decal
Clean the glass with alcohol before applying the decal. It helps to remove any dirt or oils that may be on the glass.
Once the jar is dry, center the decal and use the scraper tool again to apply pressure over then entire design, adhering the vinyl letters to the jar.
Carefully peel away the transfer tape and you're finished!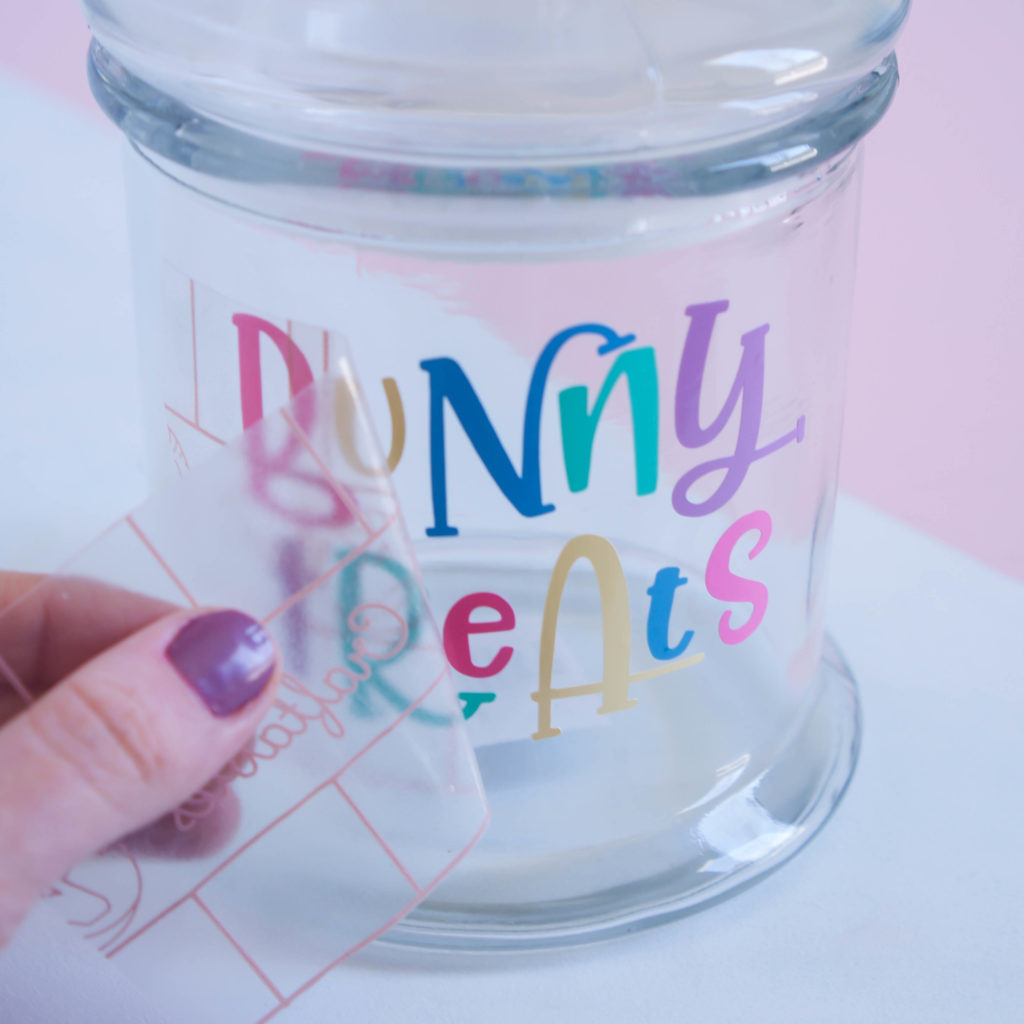 Fill the jar with treats fit for a bunny and enjoy!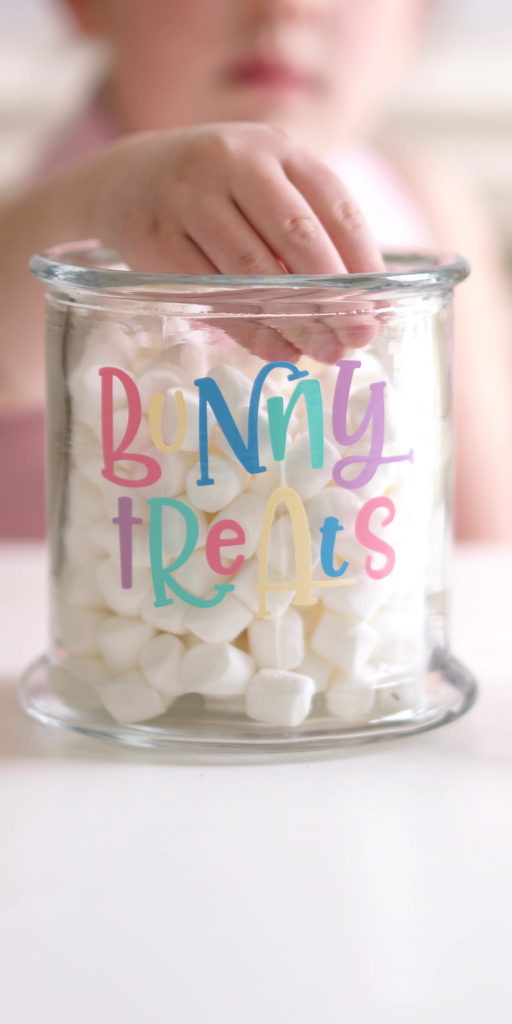 For even more Easter inspiration check out our other Easter inspired posts like How-To Apply Heat Transfer Vinyl On Burlap or How-To Apply HTV on a Cotton Tee.