Last Minute Holiday Projects with Cricut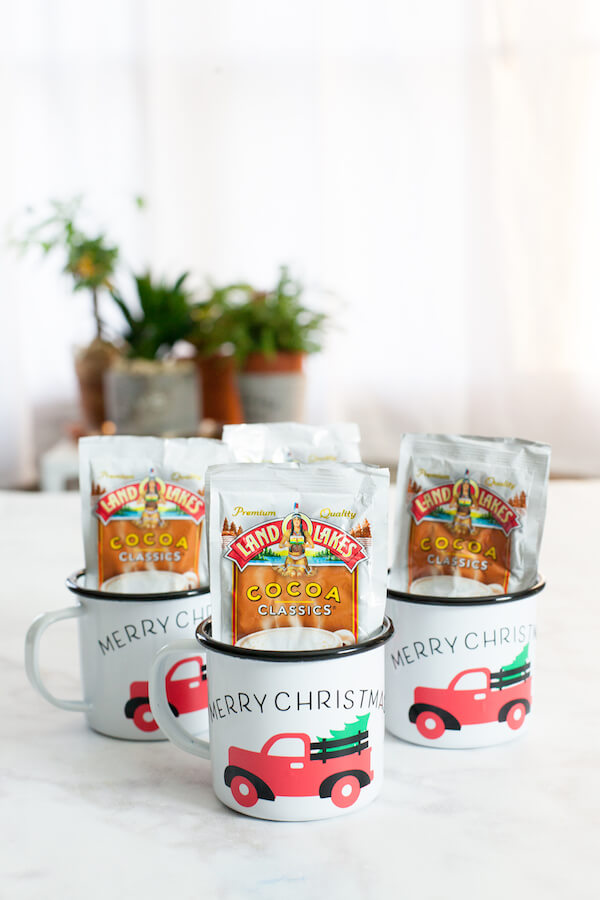 We're officially down to the wire. What does that even mean?? I have no idea, I just know I've heard it all of my life when something is reallllly close, and y'all, Christmas Day is REALLY close!
Don't freak out just yet though, you still have the weekend to finish up all of those last minute projects you've been putting off. I get it, I'm the world's best procrastinator too! That's why I put together this fun little list of last minute holiday projects you can knock out in no time.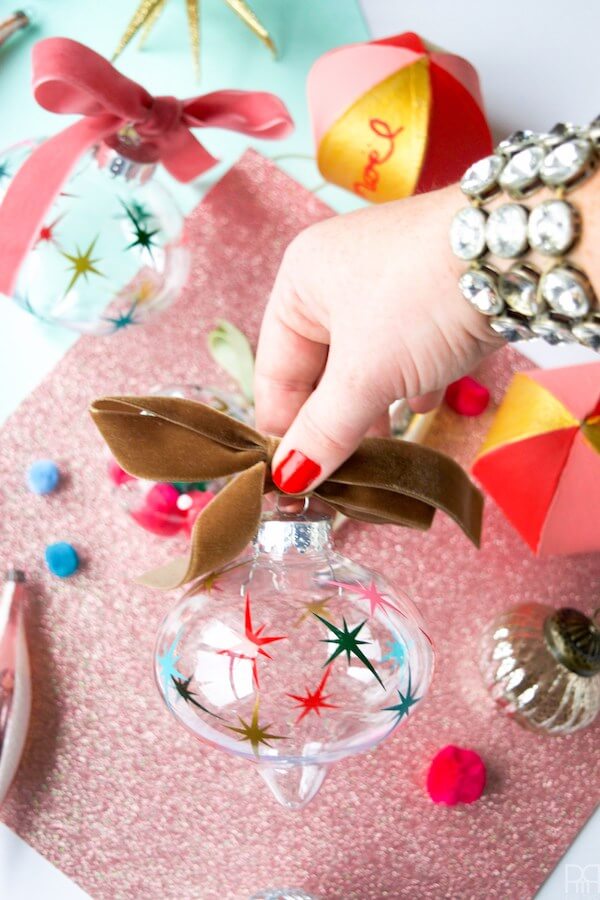 This ornament gives me all kinds of retro feels. Can you imagine an entire tree of these? All you need is a few colors of vinyl and some clear glass ornaments. In just a few minutes you'll have a gorgeous gift for yourself or someone on your list.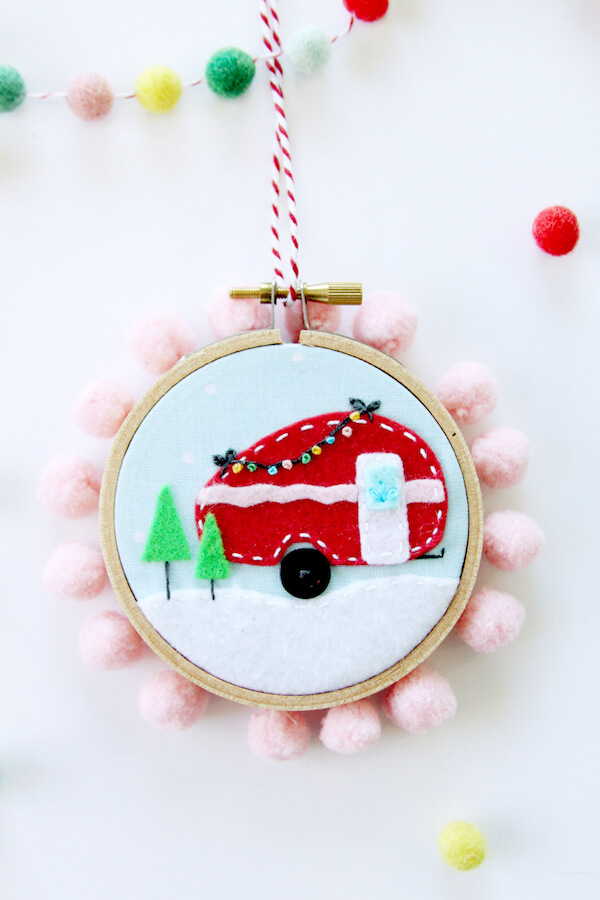 Okay, so.. Bev from Flamingo Toes is super talented and did all of this by hand but if you're anything like me, you aren't the best at cutting by hand. That's where the Cricut Maker comes in and saves the day. It cuts even the tiniest felt pieces with ease and precision so I have no doubt it would make this project a breeze!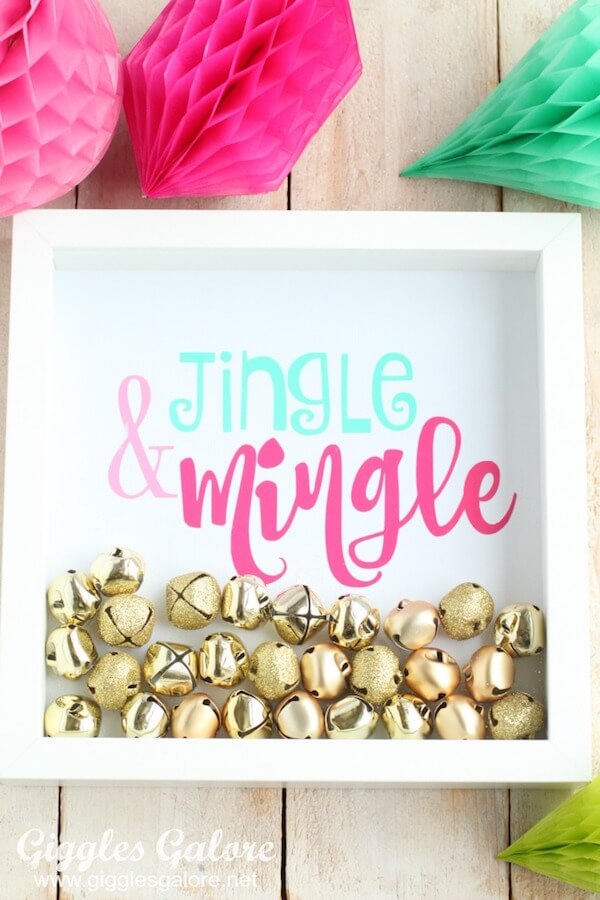 If you're lacking on the home decor side of things then Mariah has you covered with this fab shadowbox frame. I'm positive I need those glittery jingle bells in my life, ASAP.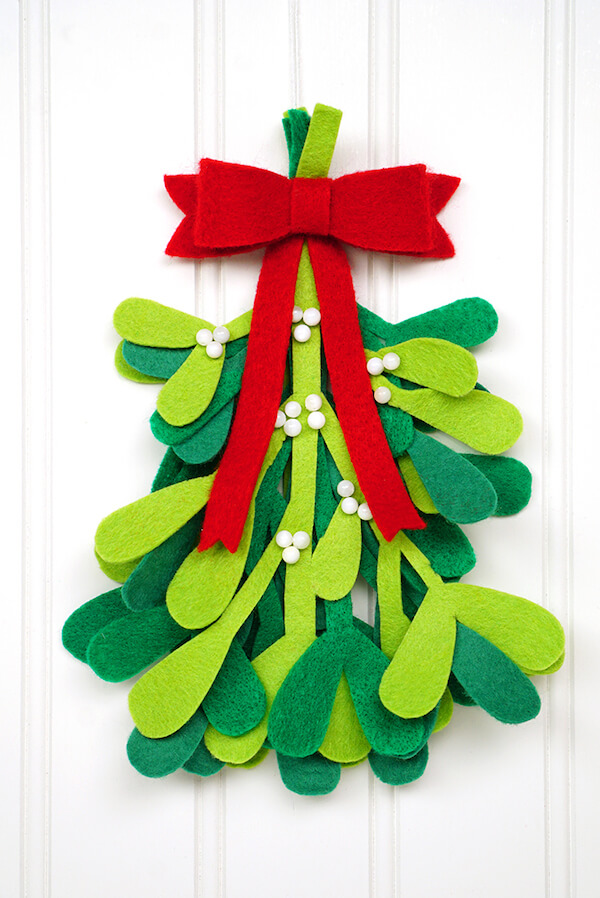 Felt mistletoe?! Get out of here with the cuteness! Heidi created this entire project with her Maker in less than 30 minutes. That leaves plenty of time for a make out sesh underneath! 😉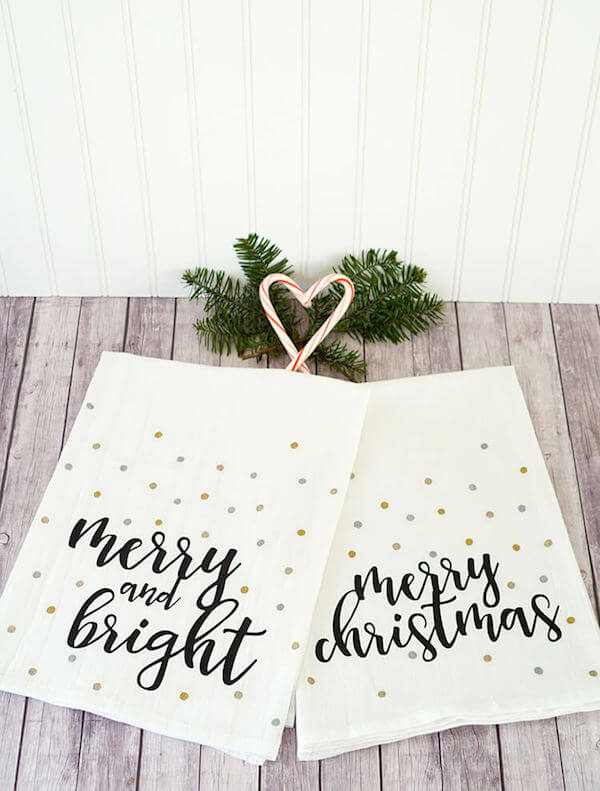 Tea towels are one of those gifts that everyone loves because they're useful. Not to mention, SO quick and easy to create. This is the perfect project for a beginner! Grab some iron-on material and your Cricut Easy Press and you'll be done in under 20 minutes.
*Check out Design Space to find the files Heidi used on these tea towels + thousands more! If you haven't already, subscribe to Cricut Access to get easy access to these type of projects for as low as $7.99/month. You will have access to over 30,000 designs + you'll receive 10% off all purchases made on Cricut.com and Design Space.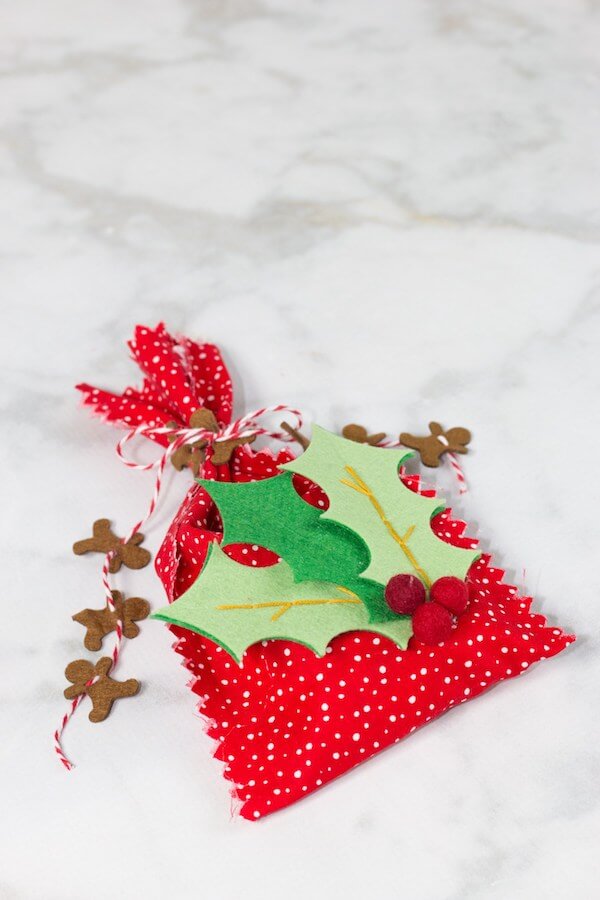 The Maker is the gift that just keeps on giving. Literally. Just look at this felt cuteness that Kimberly put together using her Maker and Cricut's Felt Sampler Pack. I would be beyond thrilled to receive such an adorable gift!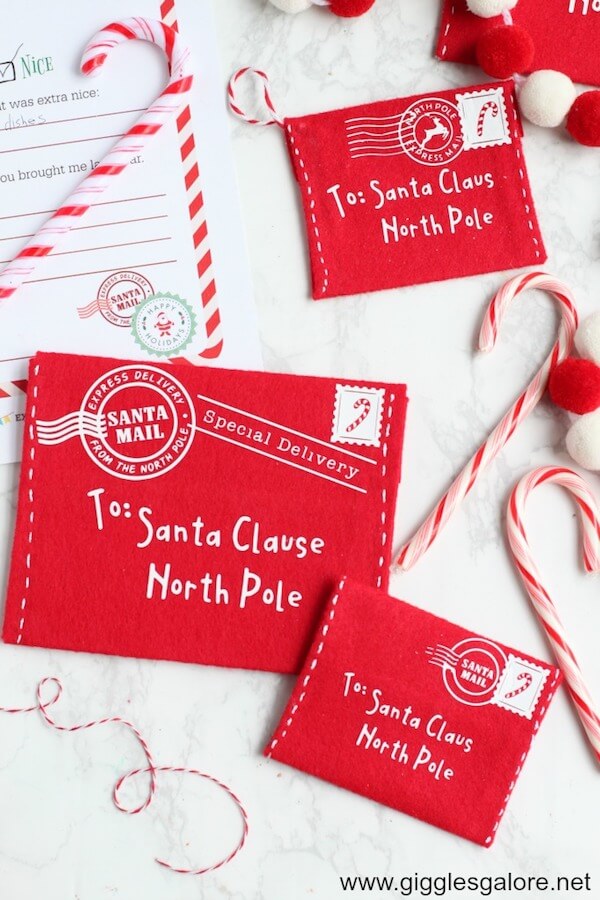 These Felt Envelopes that Mariah created with her Maker are amazing. Check out her post to see how she used them!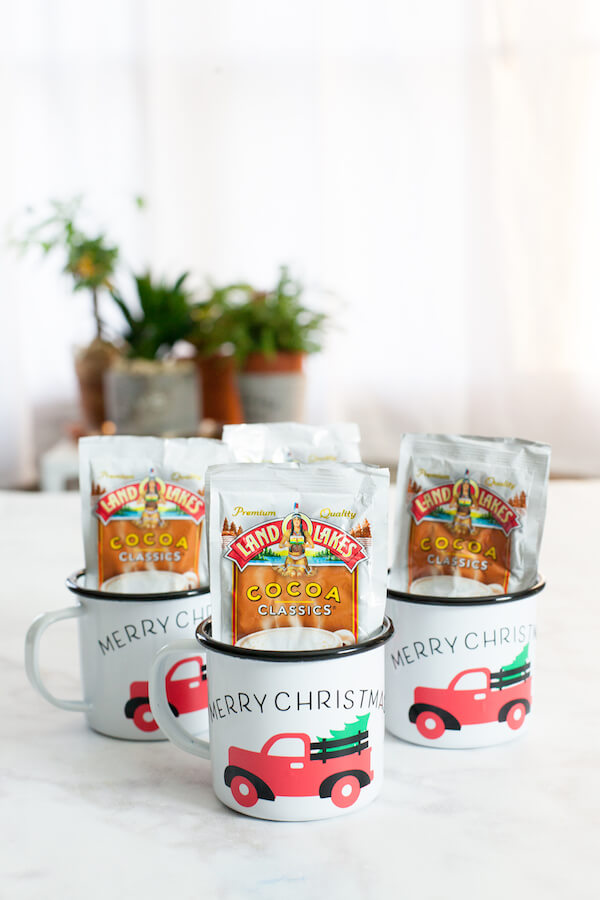 I hope the red truck fad never ends. Just look at how Heather from Whipperberry added them to these adorable campfire mugs. Vinyl layering at it's finest! Visit her post to watch how she layers vinyl with ease.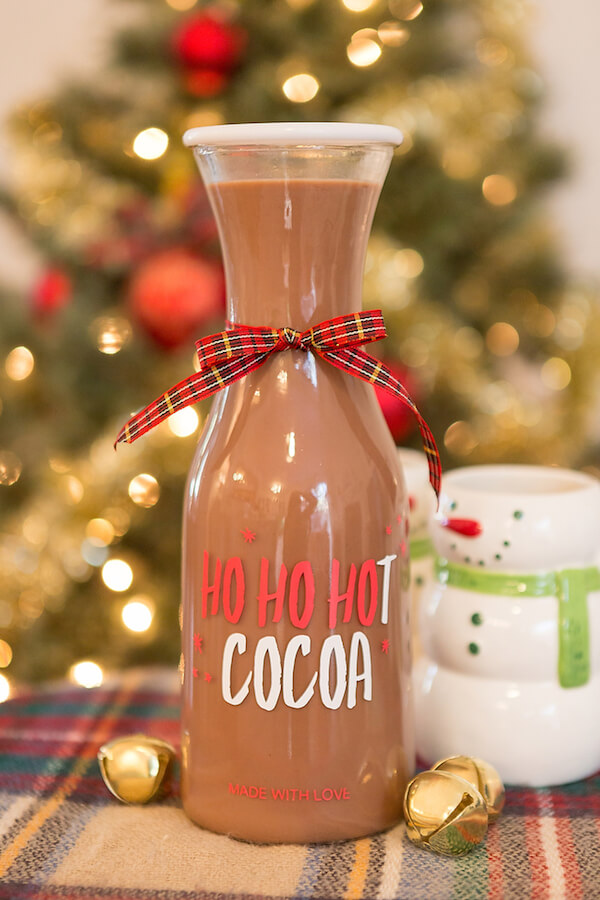 Gillian from Coastal Bride used her Cricut and some vinyl to create a gift that warms both your heart and your hands! Click over to find out how she created this cute hot cocoa bottle. Plus– free cut file!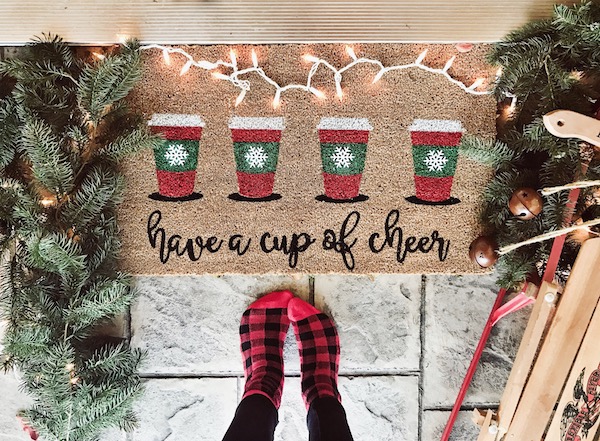 When you've covered decor inside the home and taken care of all the gifting, there is only one thing left to do. Create a festive doormat! Click over to the blog to see how I use my Cricut to create stencils for DIY doormats with every changing season.
Leave a comment and let us know what you're working on these last few days before Christmas!
 <3 Kayla
Lets stay connected!