Fabric Ink T-Shirt How-To with Free SVG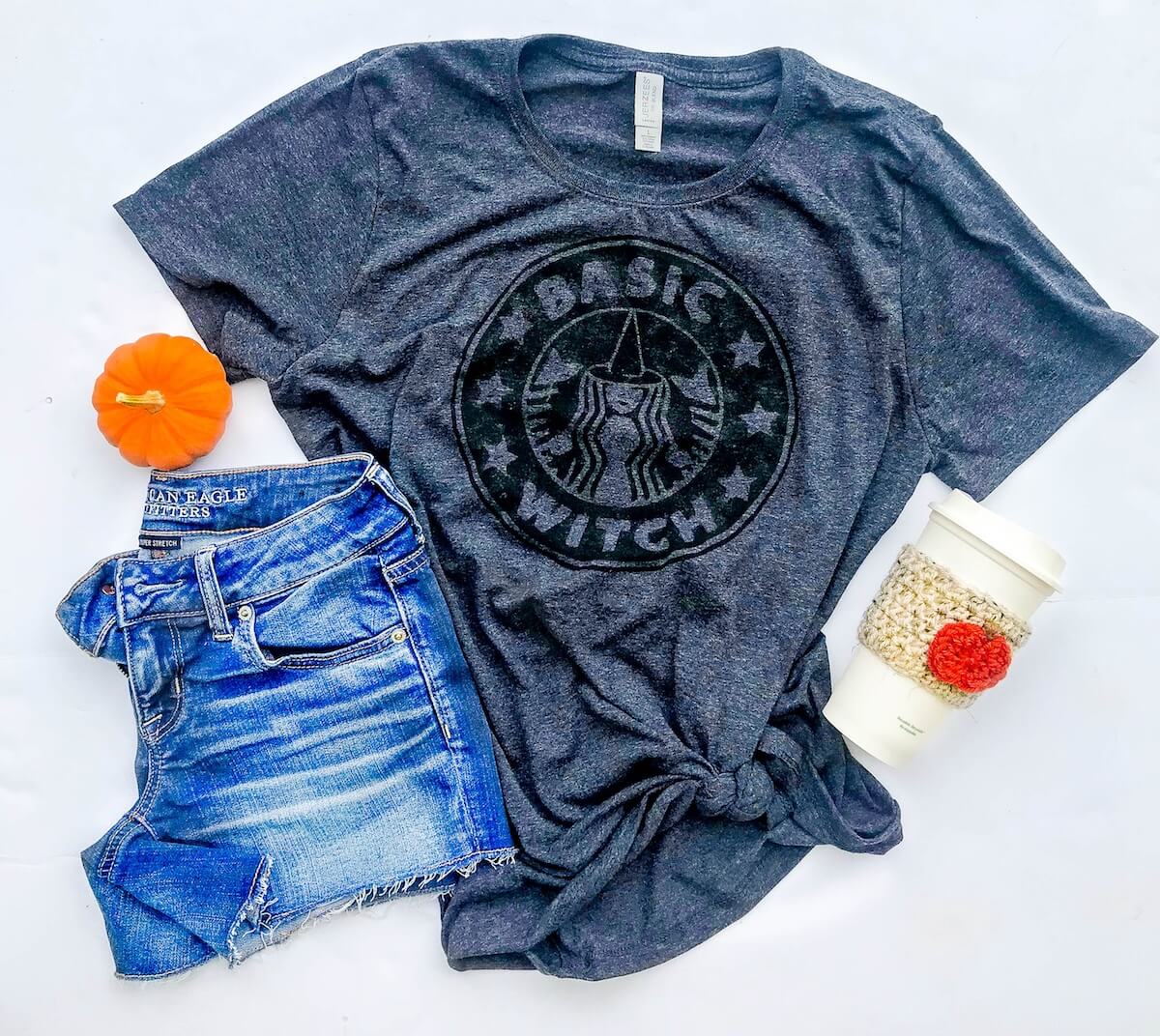 I've been wanting one of these trendy tees since the beginning of October! I almost bit the bullet and ordered one but, I'm a maker and it's hard for me to order things I can easily make myself for a fraction of the price.
I like to pass along my tid bits of know how every now and then so today I'm showing you how easy it is to create a t-shirt that has a vintage feel to it. No HTV required!
Here's what you need:
(1) Measure and Prepare T-Shirt
I always measure first. It keeps me from putting designs under my armpit. Find the center of the shirt and press or iron it so that you have a line to center your design on. Also, now is the percent time to place cardboard or even paper inside of your shirt to prevent bleeding.
(2) Cut and Weed Design
I use the Cricut Explore Air II for all of my cutting needs. I highly recommend this machine if you're in the market for one! Cut the Oramask on the vinyl setting and weed away the parts of the design that you want to be black.
(3) Transfer Stencil
Use transfer tape to pick up the design and transfer it to your shirt. I used plain old contact paper because it's less sticky. If you use a transfer tape that is to sticky you might have a hard time getting the stencil to adhere to the shirt.
(4) Apply Fabric Ink
Apply the fabric ink with a stiff brush, using a pouncing motion. I applied it sparingly to get the vintage t-shirt look.

Cover the entire design and let it dry for a few minutes before removing the stencil. If you want a darker image, do another coat of fabric ink.
(5) Remove Stencil and Iron Over Design.
Once it's all dry you can peel away the stencil and reveal the perfect, crisp design! Iron over the design or pop it under the heat press for a few seconds. This sets the fabric ink so it doesn't just wash out.
(6) Show Off!
Now you can wear your totally awesome DIY'd shirt and when everyone asks where you got it  you get to say, "I made it!" Go you. You rock.
Happy Crafting Friends! <3
Kayla
** this post contains affiliate links but rest assured I only promote products I absolutely love! – K