Easy Spring/Summer Craft Roundup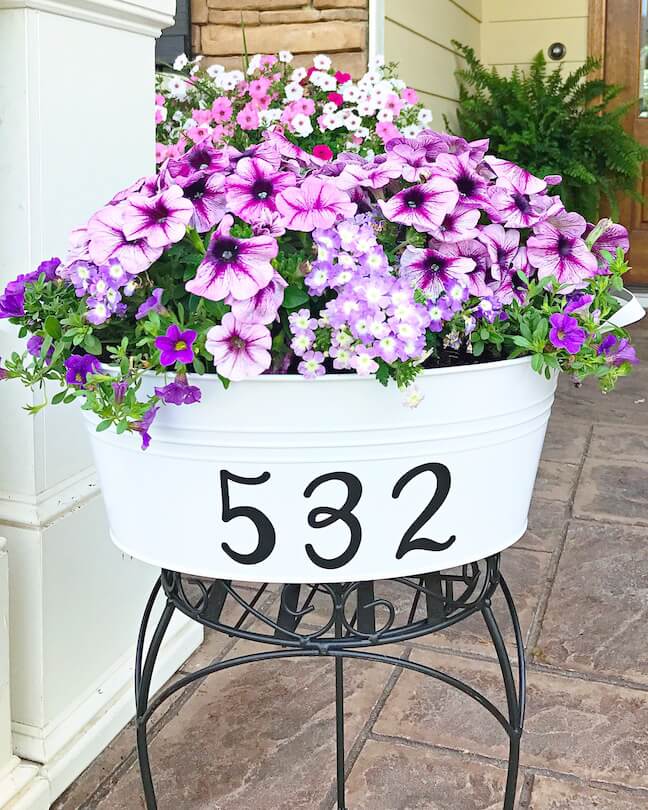 Once the warm weather moves in I am pretty much outside from sunup to sundown. It's my happy place. It doesn't matter if I'm mowing the lawn, planting flowers or just rocking away on the front porch, I am as pleased as punch to just be able to soak up the sunshine. Here are some of my favorite quick and easy summer crafts that you can make in a flash and get back outside to enjoy the day!
5 Minute House Number Planter for under $6

Okay guys, this white bucket is a "beverage bucket" from the Target one spot. It was five bucks! I added my numbers to Design Space and my Cricut cut out the vinyl decal in less than a minute. Yay for fast mode!  Seriously, the easiest "craft" I've done all year yet the impact is huge! Love it!
Hello Summer Door Sign for under $10
This gorgeous sign was made by my friend Carrie from Designed To Be Crafty. She's super talented and always has the most original ideas! We worked together last year on the Silhouette America Blog and now she's a blogger for Expressions Vinyl. Check out her post on making this gorgeous sign!
Pineapple Door Hanger For Under $10
Another fun find from the Target Dollar spot is this pineapple door hanger. It comes painted so half the work is done for you! Just a quick cut on white vinyl and you can make it say whatever your heart so desires! I went with a good old Southern staple, "Welcome Y'all". You can take the girl out of the South but you can't take the South out of the girl.
DIY Burlap Pillow Wrap With HTV
Another super easy craft that takes minimal time and close to zero dollars. I used a pillow I already had and wrapped it in burlap ribbon leftover from Christmas. A little bit of HTV and a cute saying and you have the cutest July 4th display on the block!
DIY July 4th Tank Top With Fabric Paint
Using vinyl as a stencil is one of my all time favorite processes. The lines always come out perfectly crisp. I snagged this tank from the clearance rack and used fabric paint to stencil on the design. The possibilities with this method are endless!
What are your favorite easy Spring/Summer crafts?
Happy Crafting!
KB